About NumisBid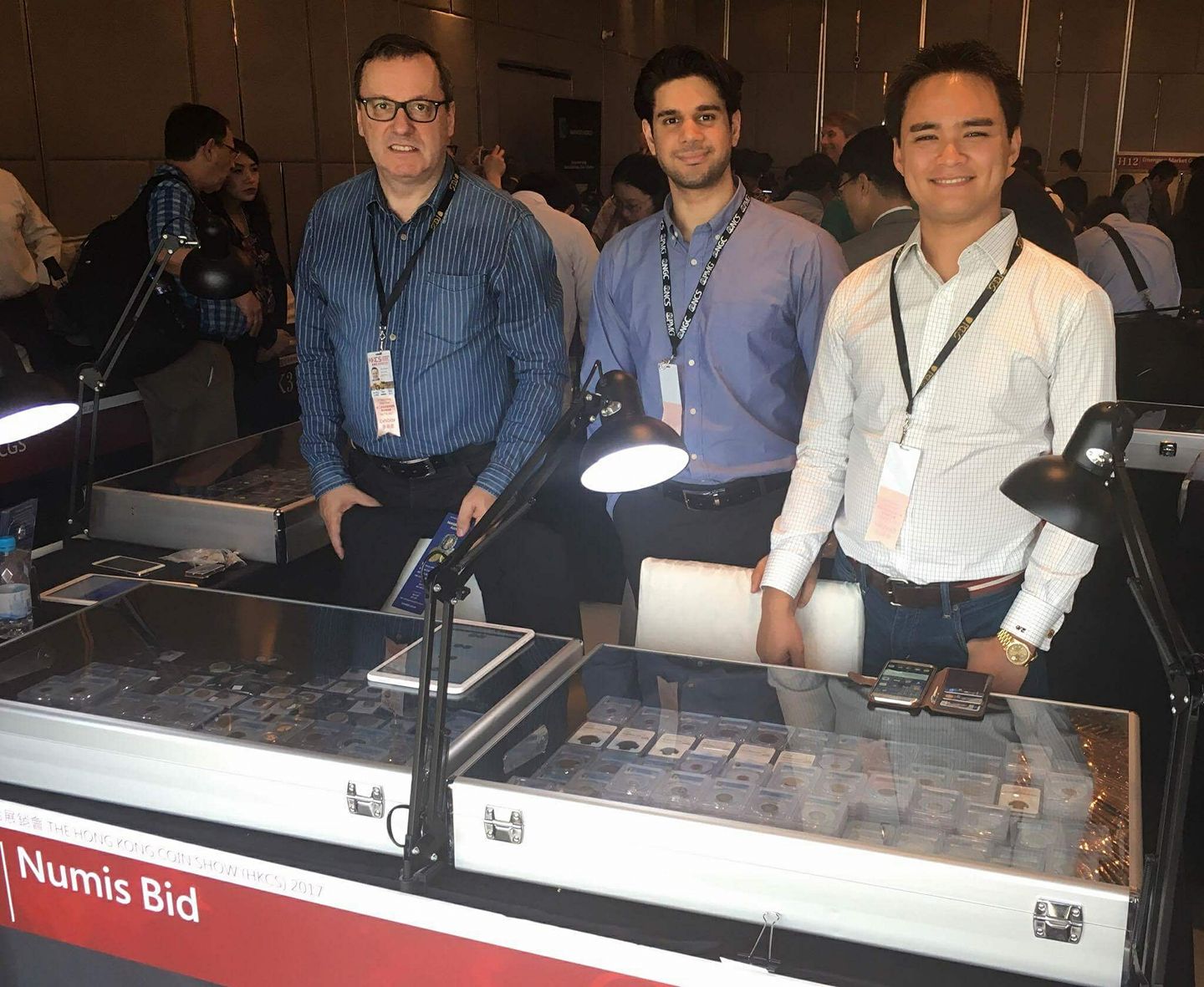 NumisBid at the 2017 Hong Kong Coin Show
The finest known 1935 proof penny and half penny pair sold by NumisBid in 2019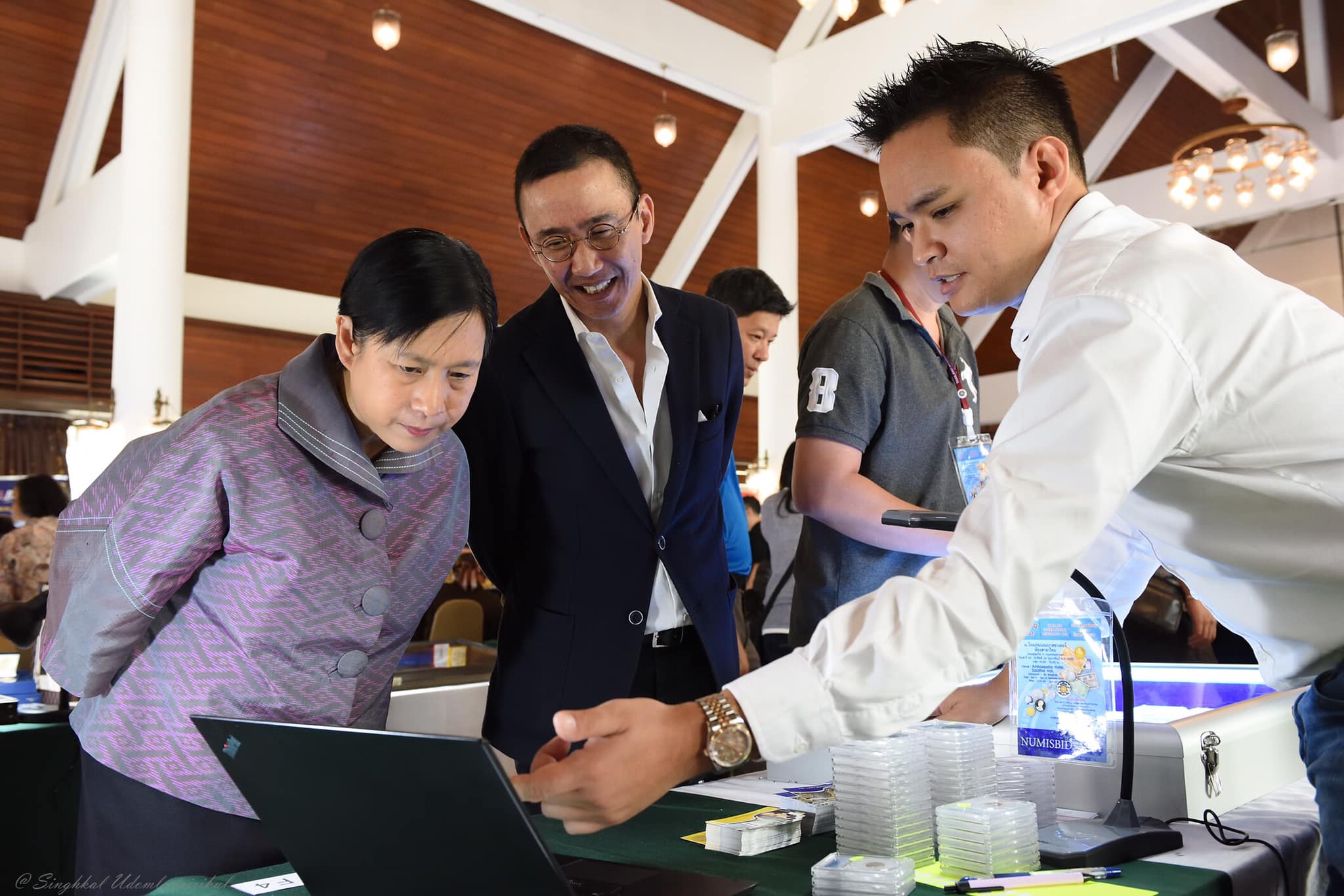 Walter shows a pair of collectors NumisBid's valuation platform at the Thai International Coin Fair in 2019
Numisbid was founded in 2009 with a vision to create a low-commission marketplace for rare Australian coins with the same guarantees that you would get from any auction house or dealer. It wasn't however until June 2011 when NumisBid migrated to a no-reserve model specialising in PCGS and NGC certified coins. This helped guarantee our vendors' coins would sell while achieving strong prices thanks to the certainty of quality afforded by third-party certification overcoming the main hurdle of on-line coin trading.
Since then NumisBid has run over 100 auctions selling key Australian rarities such as 1930 pennies in AU50, XF45, and VF35, an 1855 Half Sovereign in XF45, the finest known Roman 'I' 1864 Half Sovereign (PCGS MS63), the finest known 1881-S Half Sovereign (PCGS MS63), and the finest known 1935 proof penny and half penny pair.
NumisBid holds a strong stance against fake or doctored coins and will not sell modern fake coins under any circumstances while contemporary counterfeits will be clearly declared. We will always inspect uncertified coins for signs of doctoring and declare when any anomalies are detected. Despite its popularity with competitors, NumisBid believes it is unethical to collect a commission from both buyer and seller due to the inherent conflict of interest in representing two parties. Thus, NumisBid does not charge any Buyer's Premium.
It is through these values and support from the collecting community that we have managed to create the first successful on-line coin auction house so that all collectors can trade coins without the high commissions associated with our competitors.
Buying from Us
Buying from NumisBid takes place either through our on-line retail site, our on-line wholesale listings, or our regular auctions.
On-line Coin Shop
Our on-line coin shop offers coins on behalf of other coin dealers and private collectors direct to the public. These coins are typically selected rarities and are ideal for the discerning collector. To buy from our on-line retail shop simply navigate to Coin shop at the top of this page or view some selected highlights on our home page.
Regular NumisBid Auctions
Our auctions are the same sales you've come to love where great coins are offered, typically at no reserve and generally certified by PCGS or NGC. We still don't charge any buyer's premium so unlike other auction houses, the price you win is the price you pay. Bids can be placed either as proxy bids through our website or as live bids in our on-line auction room.
Proxy Bidding
Proxy bids are bids placed before the live auction begins and are an instruction for us to try to win the item for you at or below your proxy bid amount. For example if you bid $100 and the second highest bid is $60, you will win the item at $65 (one step above the second highest bid). Your proxy bid even works in the live auction with us bidding on your behalf in competition with live bidders to try to win the item for you at the lowest possible price.
Live Bidding
Our live bidding works just like a regular English auction where bidders compete by placing bids and whoever offers the highest amount wins.
Our Guarantees
NumisBid provides buyers with a great number of guarantees to protect them regardless if they're buying from a dealer or collector. Learn more about your rights here.
Selling through us
NumisBid does not buy coins directly but we do offer to sell on behalf of collectors and dealers at a low commission rate of us 10% and since we don't charge any Buyer's Premium, the amount the purchaser pays is the amount you get minus our 10% seller's commission. Compare that to the typical 30-40% net commissions charged by our competitors.
Selling on NumisBid is now only available to MyNumis customers with listings published directly by the seller. For more information on selling through NumisBid, contact your MyNumis customer service representative.
Third-party Certification
Most coins sold on NumisBid have been certified by either PCGS or NGC. Buying certified coins means the grading is consistently accurate, the coin hasn't been doctored and is free of any faults inconsistent with its level of circulation, and it is guaranteed authentic.
To identify which service certified the coin, simply look at the description for the words PCGS or NGC. Sometimes we offer coins certified by other services. If we feel that the grading is inaccurate or there are any problems with the coin that should have precluded certification, we will note this in the description. It should be noted that regardless of whether we agree with the grade or not, other grading services may not necessarily offer the same guarantees as PCGS and NGC. Purchasers should consider this when buying and we strongly recommend new collectors stick to PCGS or NGC graded coins.